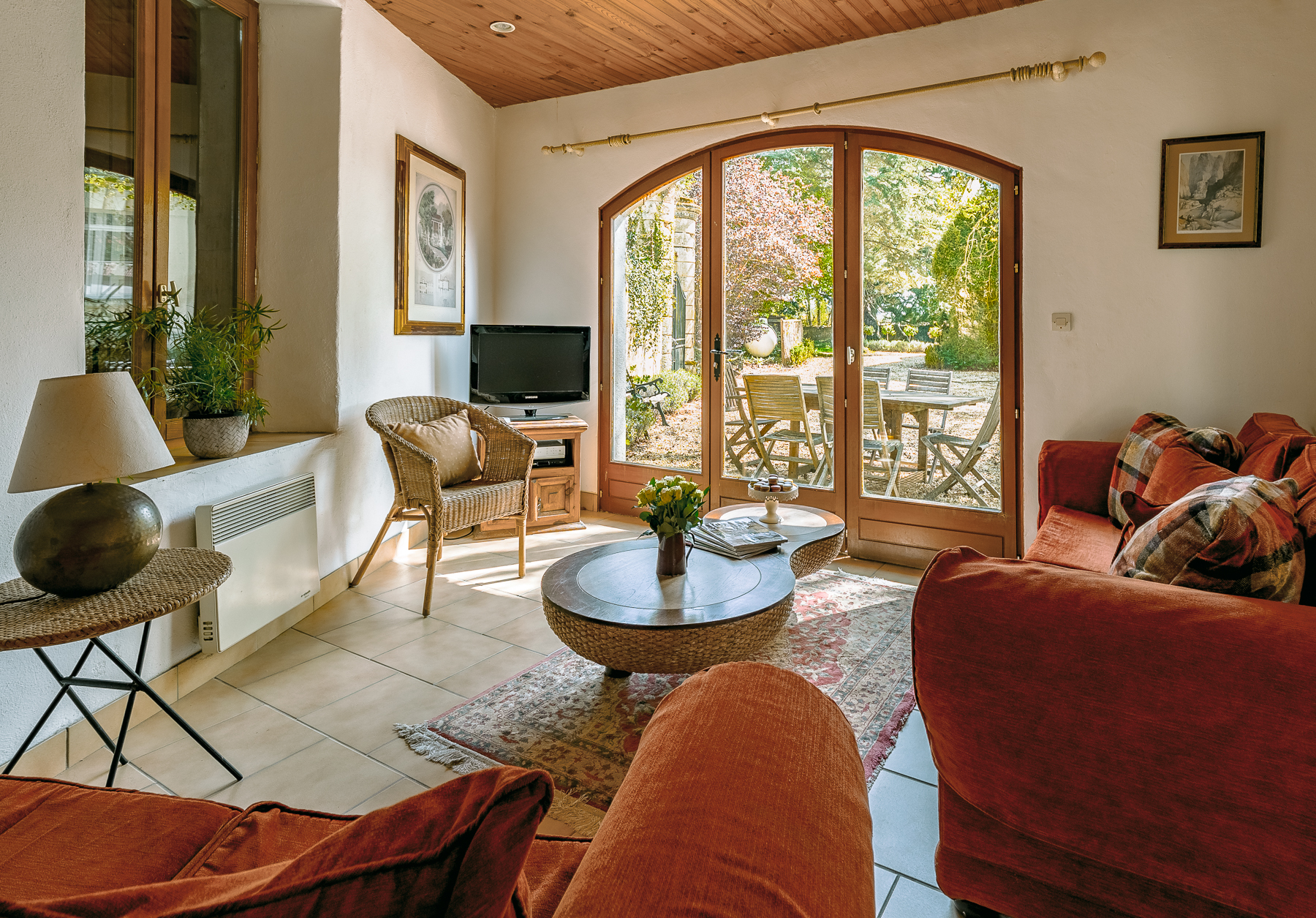 The Coach House
at Château de la Vigne
Sleep 9
Located within the grounds, between two courtyards, the Coach House is a delightful rustic property providing superb accommodation for large groups of family or friends.
CHECK AVAILABILITY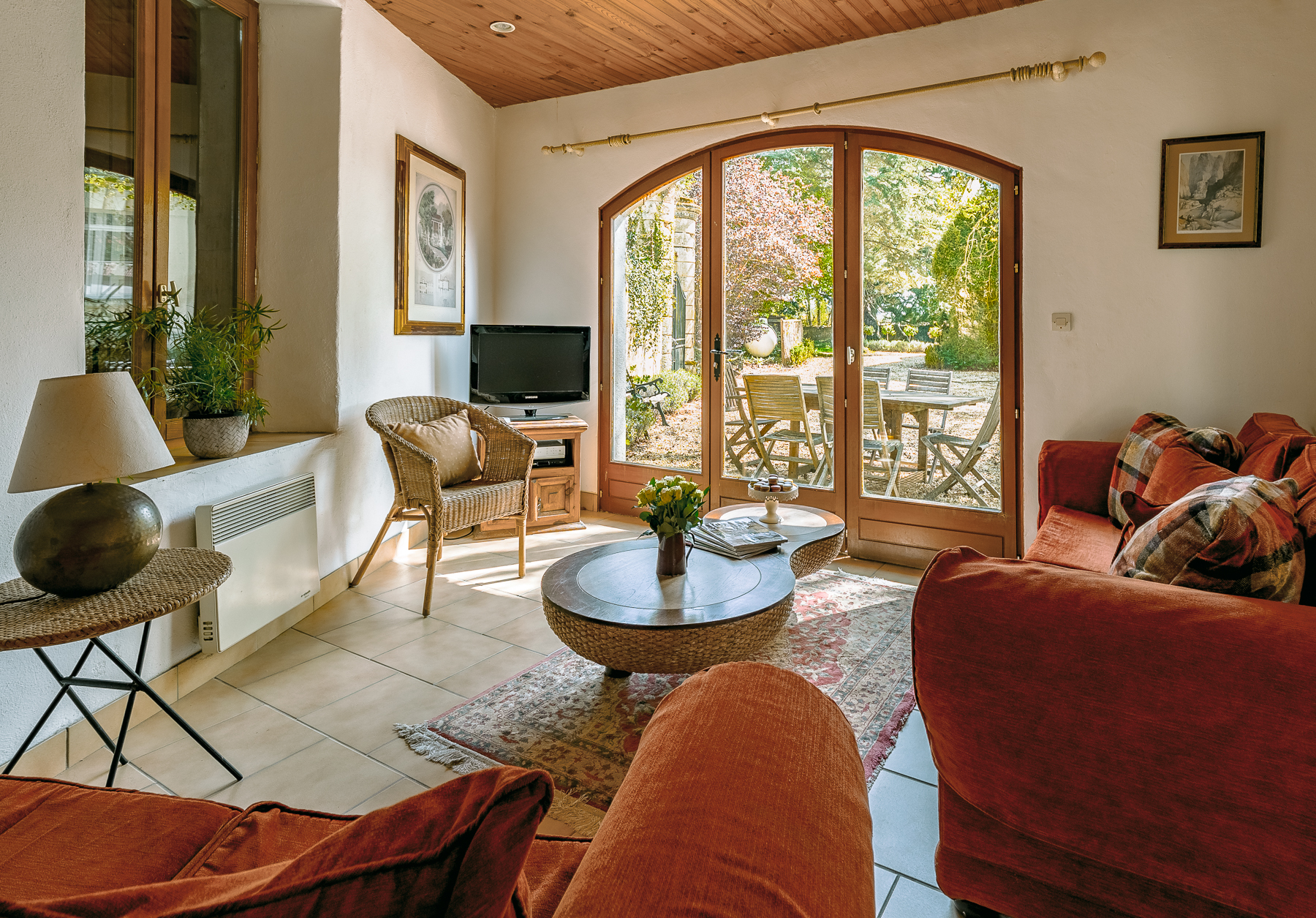 The Coach House
The Coach House has been refurbished to the highest standard, with quality facilities and furnishings, whilst retaining its unique original feel.
The Coach House offers rustic open plan accommodation with doors opening up onto the large central courtyard, as well as a private terrace from the kitchen.
The comfortably furnished living area, alongside the kitchen, offers TV/DVD with UK satellite "freeview" channels and a large selection of books/toys/games for all ages.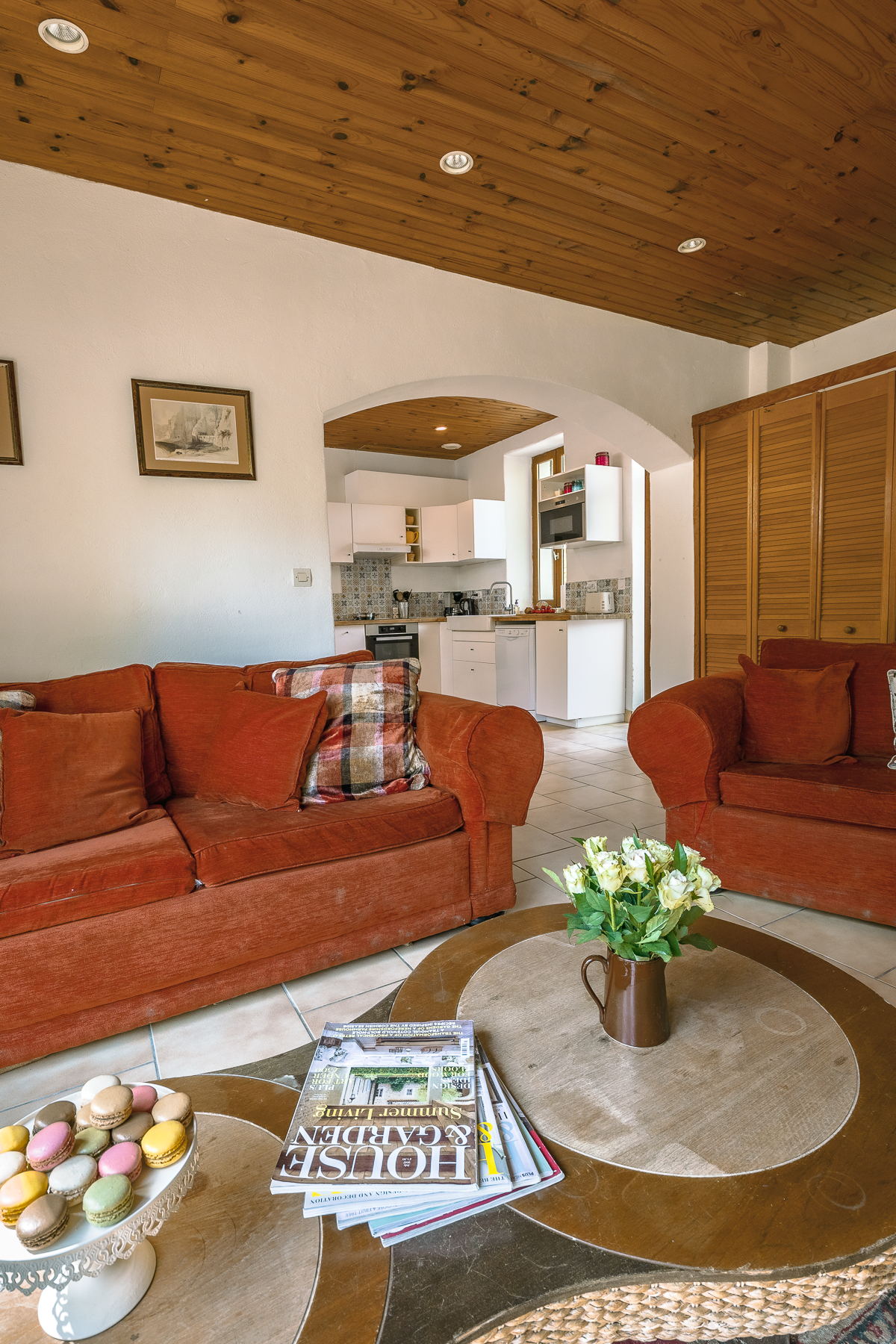 Open Plan Living Accommodation
The brand new (2022) modern kitchen is fully equipped kitchen and the dining area comfortably accommodates up to 9 people, making cooking and eating as a group a joy whilst holidaying together.
There is a twin room on the ground floor that is ideal for elderly guests, with an en-suite walk-in shower room and is also suitable for the disabled.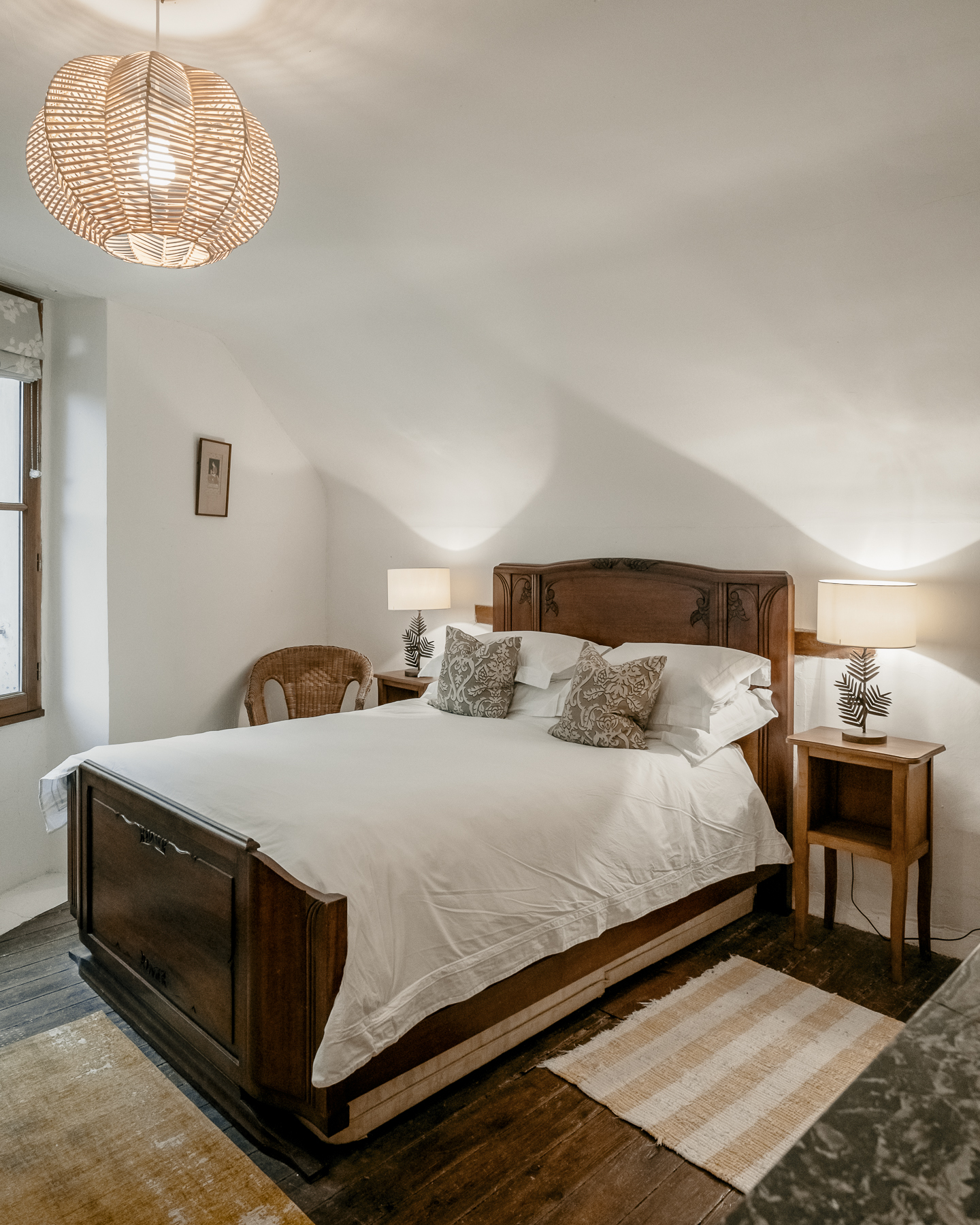 Ensuite Bedrooms
The coach house offers 4 ensuite bedrooms; one twin downstairs with 2 doubles and 1 triple room on the first floor.
Each bedroom is comfortably furnished featuring antiques and traditional pieces to create a rustic french country style.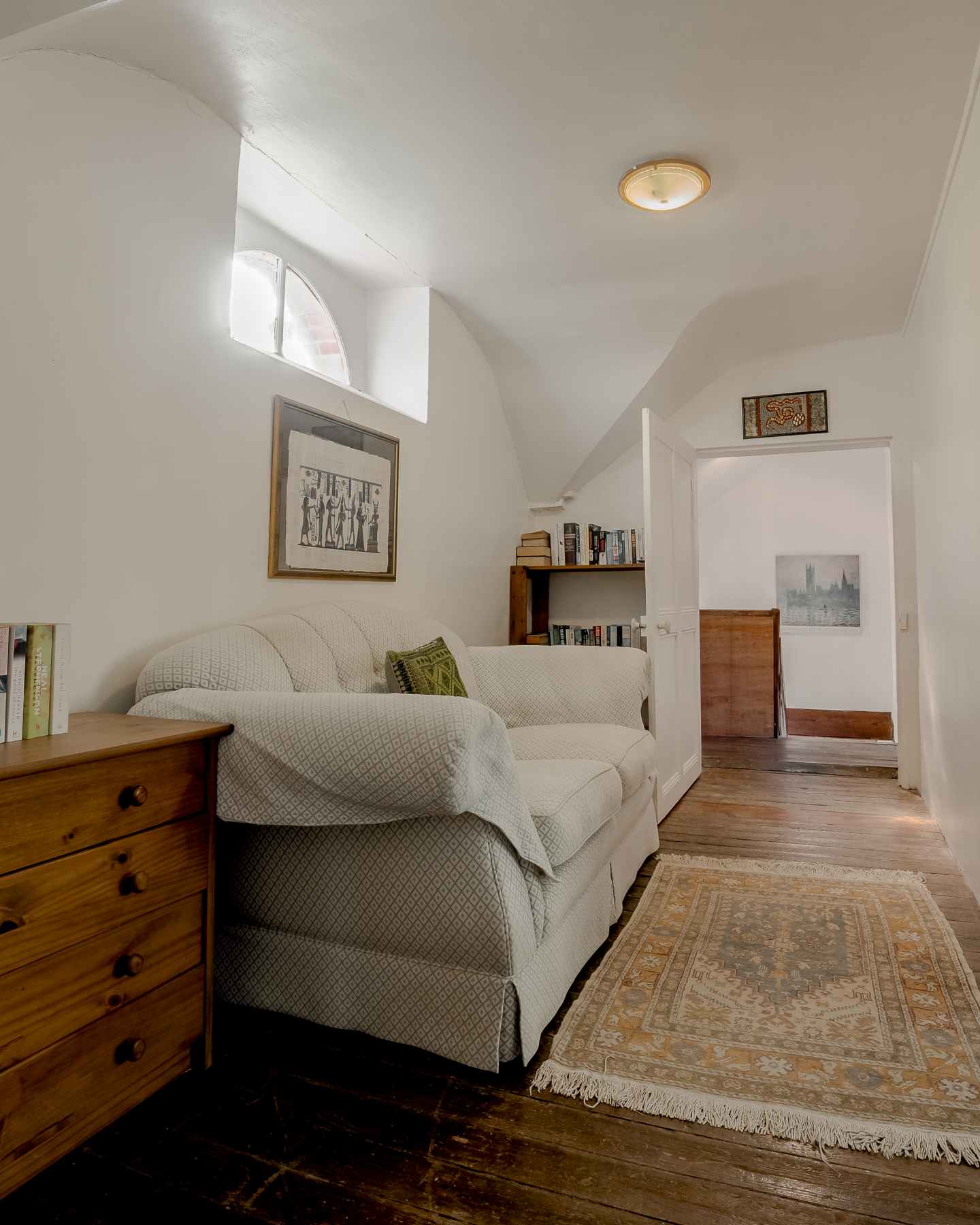 Homely Comfort
The first floor landing area offers a small cosy seating area with a comfortable sofa, leading onto a large double bedroom with ensuite shower, another double with ensuite shower and a triple room (3 single beds), with ensuite shower.
Please note that due to the rustic nature of this property, the stairs are steep and the landing area upstairs does have restricted headroom in parts; care should be taken.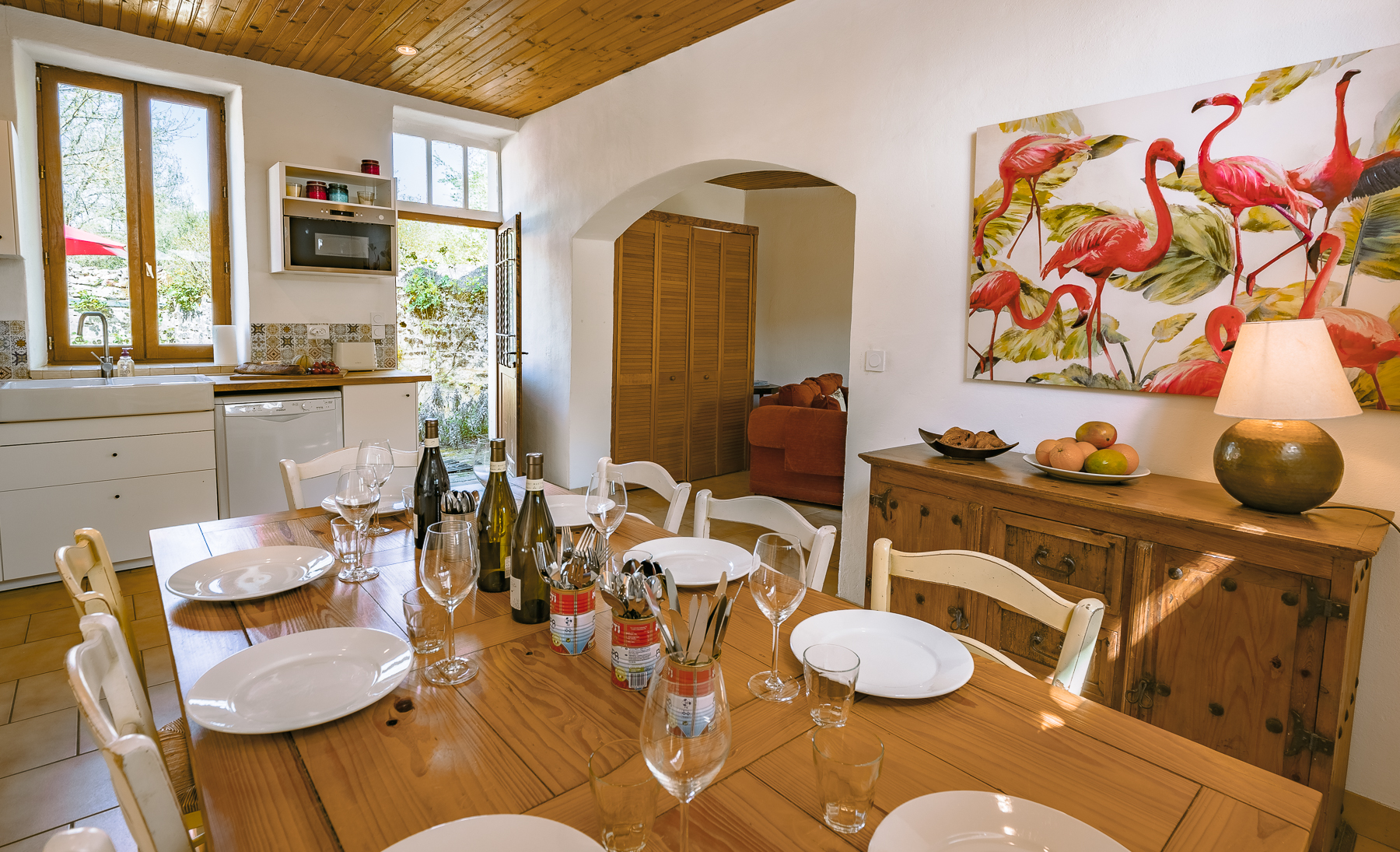 Rustic Open Plan Living
Downstairs, the living accommodation opens out onto both a private paved terrace at the front and courtyard to the rear with tables, chairs, sun loungers and BBQ facilities for "alfresco" dining.
(Due to the layout of this accommodation, it is possible to rent the ground floor only, sleeping 2–3 people – except during July and August).
More information
We aim to provide facilities and activities to suit all ages and try to ensure that the grounds at Chateau de la Vigne provide a safe environment for all guests, allowing families to enjoy a peaceful and relaxing holiday!
Please find further details which you may find helpful if you're holidaying in the Coach House at Chateau de la Vigne.
Wifi
All properties have WIFI access. Please note that although WIFI access is good, due to our rural location, we are unable to provide stronger or faster access.
Bed linen, tea towels, bath mats
1 large bath sheet
1 hand towel
1 pool towel.
Please ensure that your requirements are noted at time of booking so that they are ready for you on arrival.
Additional considerations
"Taxe de Séjour"; this local tourist tax of €1 pp/night is payable for all guests over 18 years at the end of your stay. Disabled/Carers are exempt. Please leave this in cash at the end of your stay.
Should you require towels, these are available upon request at €7.50 per set, payable on arrival.
Babies & Children
For your comfort and enjoyment during your stay, we provide cots/high chairs; available free of charge. Please ensure that your requirements are noted at time of booking. You will also find a good selection of games, books & toys.
Cleaning
Adequate end of stay cleaning is expected. Should you prefer, arrangements can be made for this to be done on your behalf for an additional fee:
Chateau €250
Coach House €150
Farm Cottage €100
Complimentary mid-stay cleaning is offered to guests staying more than one week
No additional fees
Once at Chateau de la Vigne your stay includes the use of all facilities, including bicycles
The Coach House at Chateau de la Vigne